Starting in Irun in north east Spain, Terry will begin the tour alone as four of his friends are setting off four days ahead of him - meaning Terry will need to cover about 100 miles a day to catch up with them in Nantes, France.
From there they will cycle to Mont Saint-Michel to watch the first two stages of the Tour de France and also visit the D-Day beaches. Then on the Monday afternoon, they will catch a ferry to Portsmouth and continue to the cycle to London, with the final challenge of being straight back to work on the Wednesday!
Terry's full route is as follows:
Stage 1 – Sunday 26th June - Irun to Biscarrosse, 106 miles
Stage 2 – Monday 27th June - Biscarrosse to Royan, 103 miles
Stage 3 – Tuesday 28th June - Royan to La Rochelle, 55 miles
Stage 4 – Wednesday 29th June – La Rochelle to Nantes, 94 miles
Stage 5 – Thursday 30th June - Nantes to Rennes, 85 miles
Stage 6 – Friday 1st July – Rennes to Mont Saint Michel 60 miles
Stage 7 – Saturday 2nd July - Mont Saint Michel to the D-Day landing site of Utah beach.
Stage 8 – Sunday 3rd July - Tour de France Day and cycling will be involved after watching the start.
Stage 9 – Monday 4th July - Ride to Bayeux and catch the ferry to Portsmouth.
Stage 10 – Tuesday 5th July – Portsmouth to London, 85 miles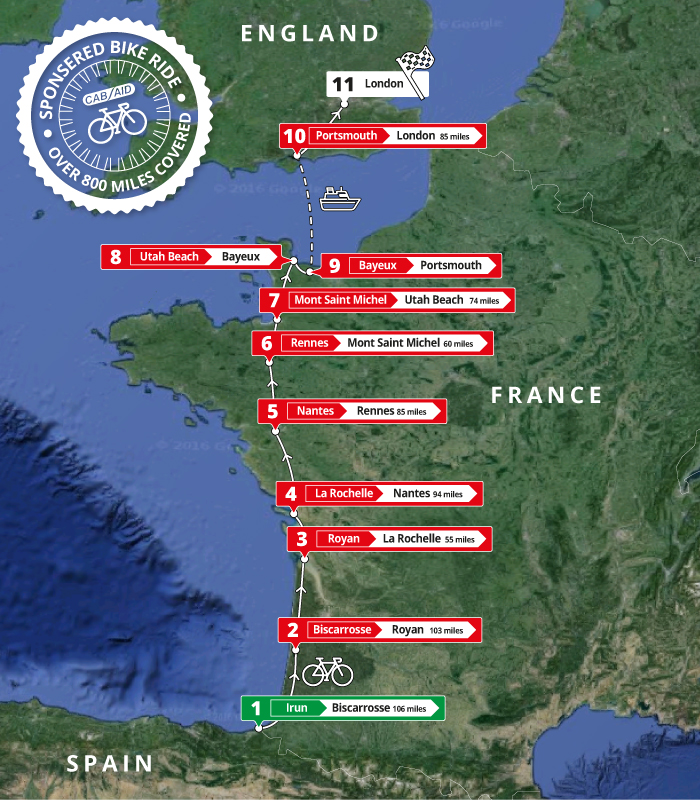 Terry and his friends that are taking part in the sponsored bike ride with all proceeds going to Kidney Research UK. On choosing the charity, Terry said "I chose Kidney Research UK as my close friend and colleague's husband is on dialysis and waiting for a kidney transplant, he volunteers for the local kidney charity so I wanted to do my bit for the cause."
Terry has set up a Just Giving page for anyone who would like to sponsor him - as Terry has covered his travel costs and expenses himself - all donations will go to Kidney Research UK. If you would like to sponsor Terry and donate to Kidney Research UK, please click here to visit his Just Giving Page (which is set up under Terry's actual name, Paul Tiernan).
To keep up to date with Terry's bike ride keep visiting CabAid.co.uk where Terry will be posting his tracked routes, with photographs of himself and his friends as they take on this huge challenge.
Good luck Terry!